The boat is moored in a lagoon that is subject to wide tidal variations so planning is crucial. We try and leave the mooring by 06:30 so as to get you to the fishing grounds as early as possible to take advantage of the early 'bite'. Should it be that the bite is happening later in the day, then departure times will be adjusted accordingly.
It is important to note that due to the geographical nature of the anchorage, should the Captain on the day of departure decide that for any reason there may a weather condition that may compromise the safety of the Clients, the Crew and the Boat, then he has the sole right to postpone or cancel the trip. Every effort will be made to either re-book the trip at the earliest possible opportunity or a refund for monies paid will be arranged.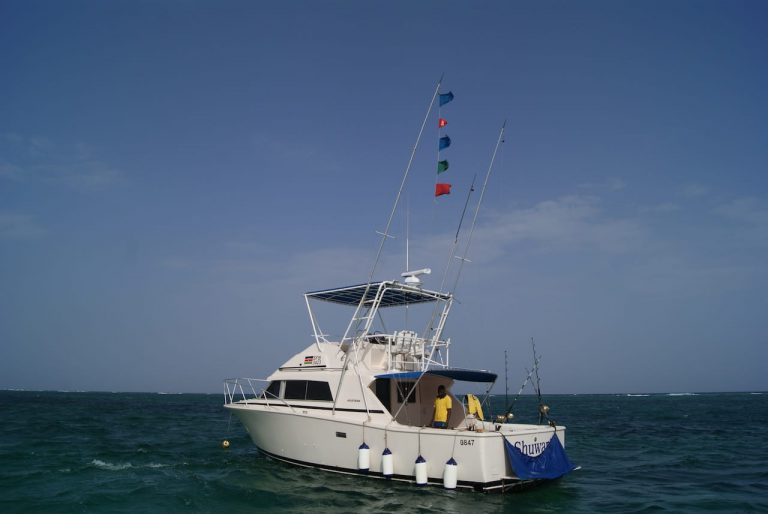 With the variety of fisheries along the Kenya coast, we can offer clients the option of fishing say in Watamu, 80km to the North of Diani, where at certain times of the year, within a 5 square kilometre area, the sea has plenty of wahoo, yellow fin tuna, black marlin, sailfish. Th area known as the 'Watamu banks' is literally 30 minutes from the Watamu anchorage so the excitement begins very early with a trip through 'Sail Alley' where catches of up to 5 sailfish in a hour are not uncommon.
Another option is to fish off Malindi, which is really the sailfish capital of the coast. One can reach Malindi from Watamu, or have the boat based in Malindi harbour.
Further North there is the tuna rich area of Ziwayu, and then Lamu and Kiwayu.
Should any of these options interest you, please do contact us for prices.