Kenya Sport Fishing- Big Game Fishing in Diani
Are you ready for big game fishing in Diani Beach, Kenya? Kenya Sport Fishing – Shuwari is based in Diani Beach, where there is a wide variety of accommodations, from 5 star boutique hotels, sea front villas, self catering cottages, all-inclusive hotels and value accommodation available.
Our aim is to provide the clients a fun day out on the Indian Ocean that will leave them with good memories of the trip.
Other facilities available in the Alliance Safari Beach resort and Diani include restaurants, spas, shopping, sky diving, scuba diving, wind surfing, kite surfing and trips to the nearby Shimba Hills National Game Reserve or Kisite Marine National Park can be organized.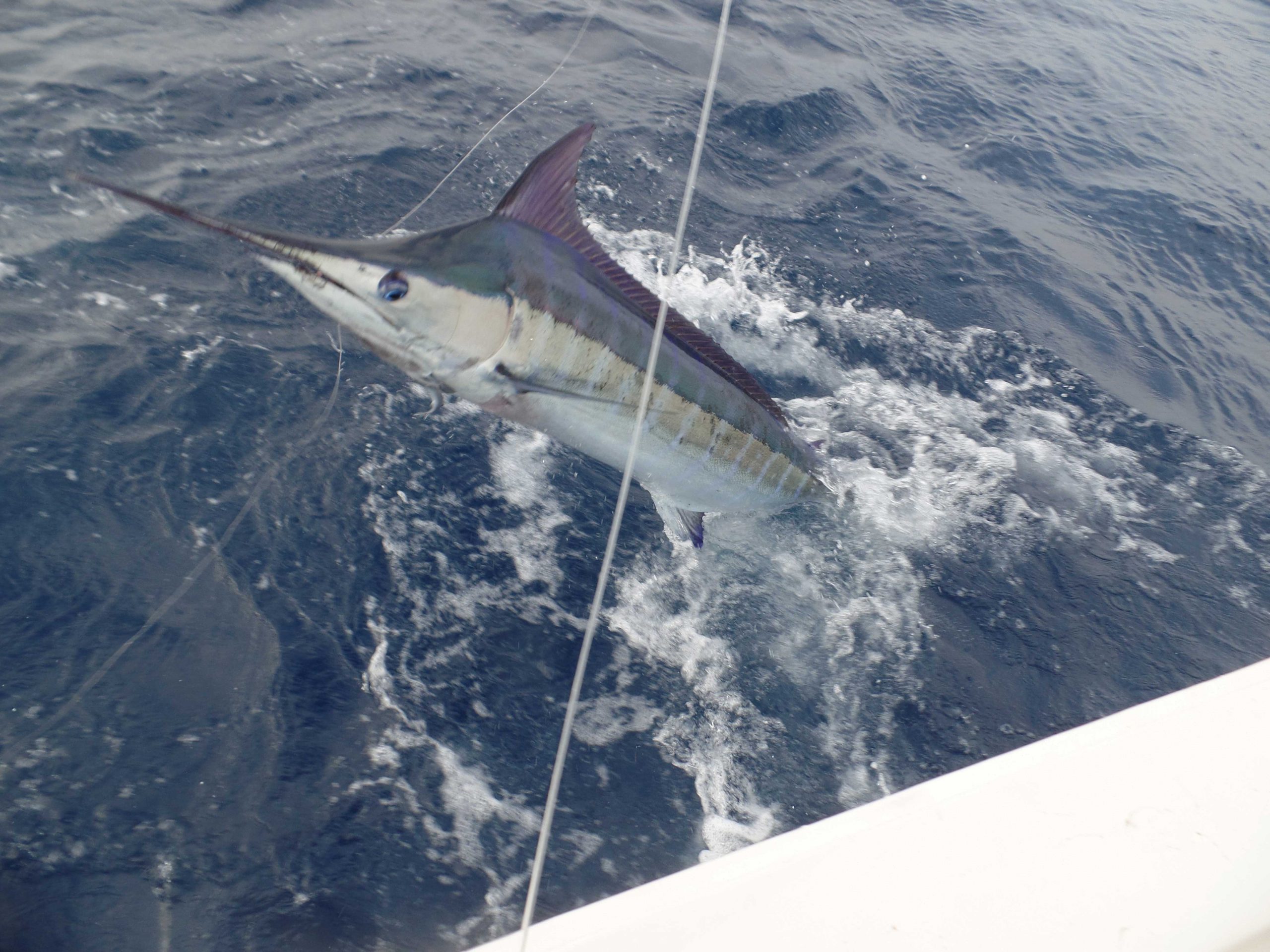 Kenya Game Fishing Season By Species
What Our Anglers Say- Client Testimonials
Eine schöne Erfahrung
Raymond der Bootsbesitzer und seine Crew von der Shuwari sind absolute Profis, das Boot, die Ruten und Rollen, sowie die Köder sind in bestem Zustand und werden nach jedem Angeltag bevor sie verstaut werden mit Süsswasser gereinigt, die Hacken geschärft und mit neuen Filets bestückt und so weiter. Ich war an zwei Tagen im Januar mit ihnen draußen auf dem Meer und fing am ersten Tag fünf Dorado wobei eine sechste kapitale, kurz vor der Landung verloren ging. Ein gestreifter Marlin attackierte den Köder, wurde aber leider nicht gehackt. Am zweiten Tag bissen ein Segelfisch ca 30 Kg , der zurück gesetzt wurde und wieder fünf Dorado, sowie ein Wahoo, alles in allem zwei sehr erfolgreiche Tage. An Bord gibt es Snacks, Obst, sowie Softdrinks an einem Tag, wurde ich sogar bekocht mit Reis und afrikanischem Gulasch, das sehr lecker schmeckte. Eine saubere Toilette ist an Bord auch vorhanden, dies ist ja auch nicht ganz unwichtig. Beim nächsten mal wenn ich nach Kenia komme, werde ich wieder mit der Shuwari raus fahren und mein Glück versuchen, die Jungs an Bord, werden ihr bestes geben, da bin ich mir sicher.
Game Fishing Trip of a lifetime Diani Beach
I was privileged enough to have a fishing trip with Raymond and the team at Sport Fishing Kenya arranged for me by my brother and sister in-law who are living in Diani Beach. It was a Christmas gift from them to me knowing how keen a fisherman I was, One of their friend Tony joined me on the trip who I had met on my Holiday a few days earlier. On 30th December early the morning of the fishing trip we took the short trip from my brother in-law place to the beach where Raymond and the team were waiting for us with a friendly welcome and smiles. We had a shot briefing and then loaded the tender and motored out to the Fishing boat. Once on board the boat we discussed with Raymond what our wishes were and that was to go find marlin. We motored out a few nautical m(img)iles and then set the rods and lures and trolled as we went out to about 10 nautical miles from shore in 1600 feet of water where we trolled for most of the day chasing my life long dream a marlin catch. The team cooked us up some breakfast of Mandazi(a delicious local doughnut) with egg on it. It was very quiet until about 10am and then the wind picked up to about 8 knots which is just a gentle breeze but Raymond said it was good that the wind had kicked in because the fish don't seam to strike in the very still conditions and he was right shortly after the wind picked up we had a Sailfish come up and check out the lures but no strike. Shortly after that we had a stripped marlin strike and a hook-up and I was straight onto the rod and into the chair the excitement and adrenalin were flowing the fish was jumping frantically and I was just concentrating on keeping my line tight. The crew were fantastic keeping me informed of what I needed to do or correct so I would have the best chance of landing this fish. (I had previously fished for marlin off Mauritius, bazaruto island Mozambique, Richards bay South Africa and Coral bay Western Australia and had hooked several but never landed one.). Once I was in rhythm with fighting the fish Raymond and the team were happy with my progress we started following the fish and after about 20 minutes we had the marlin next to the boat I requested to have pictures taken as it was my first billfish so the crew promptly haul the fish on board and I held it up for the photos letting out a screech as though I had just scored the winning goal in a world cup final or something well it had been my life long dream to catch a marlin and now I had it in my arms!!! My Day, Holiday and Christmas had been made right there with that fish I was ecstatic to say the least!!! The team had been very competent and efficient and that is a big reason this fish was now in my arms. We then put the marlin back in the water and swam it for a while before releasing it. We fished for most of the day out in this area about 10 nautical miles off shore in a line in the sea where two different stream of different colour water were flowing together, we had 4 more Dorado strikes and all hooked up and were landed in this area. The team cooked us a delicious beef stir-fry and rice for lunch. Later in the afternoon Raymond suggested we go to a different spot he knew of, closer into shore to try and find sailfish we agreed and head for it. Shortly after arriving at the new fishing grounds we again had the skirted lures out trolling behind the boat and we had a double strike and hook-up on sailfish, again the adrenalin was flowing and thanks to the skill and efficiency of the team Tony and I both landed these sailfish, again we took photos and then swam and released them. So I had my second Billfish of my life and all in one day I was over the moon!!! These guys are great!!! We continued fishing for a while and got another strike this time a wahoo which was landed, so for the day every strike that hooked up was landed a 100% success rate that is a massive credit to Raymond and the team for there knowledge, skill, experience and efficiency at what they do. The tally for the day was 1 x Stripped Marlin, 4 x Dorado, 2 x Sailfish and 1 x Wahoo what a days fishing and a trip of a life time for me a day I will never forget as long as I live. Thanks go to Raymond and the team they were fantastic, I hope to visit again someday an take another trip with These Guys they are Great.
Some Beautiful Days
Autumn 2016 - the Kenya holiday is booked. The Diani Beach is to go in February 2017. Now the most important - a big game boat still needs to be chartered. Quickly I found the Internet A Bertram the Shuwari. The contact was fast and friendly. Three flights (Including one night trip) were announced to the desired date. February 2017 - finally arrived in Kenya. On the second day Raymond Matiba visited us at our hotel. The wish dates were confirmed and discussed in more detail. 1st Fishing Day As a knocked out waiting for a taxi in front of the hotel and take us to the Shuwari.After a warm welcome And an instruction is already going on. As soon as we are on the reef are already the trolling lures Expertly designed. The first fish is a bonito, which my 10-year-old son can drill.Throughout the day Follow a few gold mackerels. Around noon then the long-sighted first Marlin attack. A striped one Screams between the lures in the air. NO STRIKE! Half an hour later a Tiagra howls loudly. STRIKE! Again a gestreifer, which after 20min. (About 2.50m and 56kg) is landed.Unfortunately the time was after And we had to return. 2.Angeltag (Overnight) Early mornings at 6.30am starts the 24h trip. The crew is ready to go fishing. After a good coffee is Then the last fatigue. The weather still means good with us today - calm sea and bright sun. The billfisch had it however today not in a hurry. Only in the late morning there was the first attack of a Sailfish. In the course of the day, 5 Sailfish attacks 2 were successfully converted and released. An attack of a Blue Marlin Unfortunately did not lead to success. As an by-catch, there were 2 gold mackerels. In the late afternoon, the crew prepared the equipment For the night fishing. A safety instruction for the Nachangeln was not missing.About 7 pm started then The trolling on the knight of the billfish - swordfish. No half an hour later a roll came out loud. BROAD BILL! Over 3 hours this fight should last - then a 131kg and about 3.60m long swordfish tamed. What a Fight, what a fish - boat record. Now was finally time for a strengthening. Towards 00.30 hours cried again A roll out loud. A 50kg heavy swordfish could be found after approx. 25min.Release. The rest of the night went on calm. In the early morning we went on the way back. 3.Angeltag Unfortunately, the weather is not very good today. The sky is drained and the sea is a little restless. Toward 9:00 o'clock, the sky opens and the sun finally shows up. It does not take long and that Sword of a Blue Marlin can be seen at the Lures. NO STRIKE. Not half an hour later a grain jumps between The lures. NO STRIKE. Hope comes up! But the weather is not good with us.Around 10 am clocks The sky and it remains the whole day. In the afternoon we change the fishing area and can still have 2 gold mackerels outwit. Absolute highlight was the sighting of a whale shark we could observe 5m next to the boat. At this point we would like to thank Raymond and the crew of the Shuwari! These wonderful days will remain unforgettable.
Diani Beach Fishing
My son and I had the pleasure of taking a half day fishing trip with Sport Fishing Kenya in early December 2016. Our preliminary contact with Raymond Matiba to make arrangements went smoothly. Raymond picked us up at our Diani Beach hotel promptly at the agreed upon time. A short drive brought us to where the boat was moored. We were very pleased with the top notch condition of the boat and gear. The crew was very helpful in all aspects. We caught several bonita in short order, which were used for bait. We then caught 4 dorado (mahi mahi), and 1 wahoo (ono). Since we then had all the fish we could possibly use, we tried to catch a marlin or sailfish, but were unsuccessful. One highlight of the trip was the crew preparing a dorado fillet for lunch on the boat! At the end of the trip, the crew prepared a couple of dorado fillets and wahoo steaks for us to bring back to the hotel, where the chef deliciously prepared them for our dinner. I would highly recommend Sport Fishing Kenya if you want to take a fishing trip in the Diani Beach area. All aspects of their operation are well run and professionally managed